These general email send time tips are widely accepted by the email marketing community.
They are great when you're starting off, but be sure to read on and see why they won't always work.
Daytime vs. Nighttime. While this one may be obvious, it's usually better to send out your email campaigns during the daytime. You know, when people are awake. Not asleep.
Mad Mondays. The general consensus is that you should avoid sending out email blasts on Mondays. Why? People are already bummed out about the end of the weekend. They march into the office and are flooded with emails they've collected over the past few days. What's the first thing they do? Delete those emails of course!
Weekends. Historically, weekends are the days when folks are out running errands and going on adventures. Weekends tend to have low open rates, so most marketers avoid them like the plague.
Give Heads Up for An Event. While 23% of emails are opened within 60 minutes after being sent, there are some lingerers who may not check out your email until a day or two later. To be safe, send out event-oriented emails 3-5 days prior to an eventFan Favorites: Tuesday, Wednesday, and Thursday. Tuesday, Wednesday, and Thursday have traditionally been favorite days to send email campaigns, as email marketers seek to avoid the Monday angst and Friday's itchy-feet. Mailmarketing.com confirms that Tuesday and Thursday are the two most popular days to send email newsletters.


Mid-Week, Mid-day: The tried-and-true traditional approach of sending out email campaigns in the middle of the week and in the middle of the day tends to do pretty well. General know-how suggests sending emails between 1-3pm (9-11am is recommended as well). It's safe. It's reliable. It's not a bad choice. Just remember, nothing ventured, nothing gained. Mailmarketing.com suggests 2 pm as the optimal send time based on their data.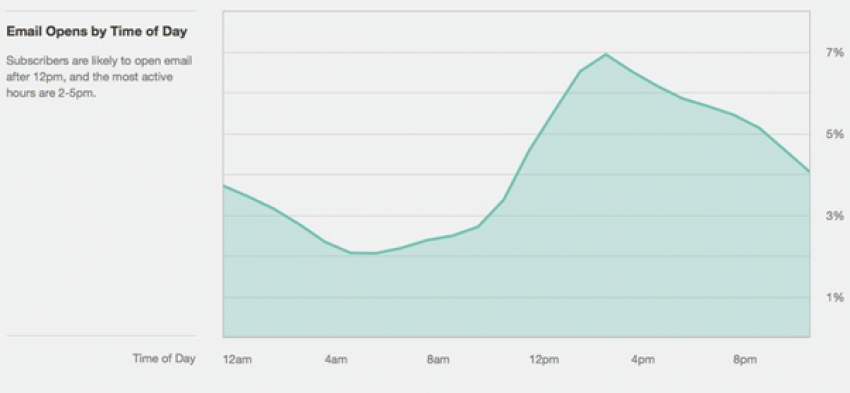 Just take a look at our own WordStream data.

Best Time to Send Emails: Thursday 8 – 9 am
Most email marketing articles would claim that 8 am is too early to send an email newsletter, but it works great for WordStream blasts – we get over 25% open rates with this time!
Worst Time to Send Emails: Tuesday & Wednesday 8 – 10 am
Many would claim that Tuesday and Wednesday mornings should be great times to send emails, but we've found that Tuesday mornings result in under 5% open rates, while Wednesday mornings have below 5% click to open ratios.


Beating the Rush.
So everyone agrees that Tuesday, Wednesday, and Thursday are the best days to send out an email campaign. Unless your competitors live north of Winterfell, they probably have heard this sage advice as well. This means that you're facing a ton of competition by sending out emails on the "recommended" days and times.
If you don't want your email newsletter to get lost in the hustle, swimming upstream may be your best bet. Although Mondays and Fridays are generallynot recommended, who is to say they won't work for you?
It Depends on the Device.
Traditional "best time to send an email" numbers are being thrown to the wind as user habits change across devices. The standard mid-week, mid-day makes perfect sense for desktop users who are opening emails at work. Mobile users, on the other hand, tend to be pretty active even late in the evening.