Many newsletters examples from which you can take inspiration for your communications


Black Friday has been the day of discounts par excellence for decades: a day that traditionally corresponds to the last Friday of the month, defined by Americans as "Black Friday" because characterized by heavy road traffic that used to develop in American cities on that day, due to the mass movement of people who searched for super offers. Over time this event has evolved a lot, becoming one of the main earning opportunities for companies, which today compete more and more for the launch of the most incredible discounts. The great news in recent years is that Black Friday is no longer limited to a single date, in fact many people choose to launch the promotions a week earlier - during what has now become the "black week" - and make them end the following Monday, known as Cyber Monday (this one mainly related to online purchases).
Numbers from previous years show us how it is worth to invest time and energy in creating effective marketing campaigns during this period, also in view of Christmas. The average purchase of Black Friday in 2019 was $168, an increase of around 6%. In total there was an increase in sales of 6.22 billion dollars, 23.6% compared to 2018 (Source: Exportusa.us).
And it is the online world, in particular, that has given truly astonishing results, confirming the growing tendency of consumers to buy via web. A percentage that is destined to increase, considering that this year, with the social distancing rules arising from the spread of the Coronavirus, ecommerce has literally exploded. Consumers are becoming increasingly accustomed to online shopping and as a result many companies are also adapting and opening up their own virtual space.
This does not mean that offline shopping is going to disappear, beware. The pleasure of shopping in the shop, in direct contact with the seller and above all the possibility to touch the product is something that many people continue to favour. That's why, whether or not you have an online shop, you can't overlook an unmissable occasion like Black Friday (this year it falls on November 27th, followed by Cyber Monday on Monday 30th November).
Now it's time for action. Let's see now how to set up the communication in these weeks, with reference also to some examples of newsletters and promotional graphics proposed this year and in recent months by different brands.
"Images that speak"
Graphics in a newsletter is fundamental, sometimes it's everything. Especially on occasions like these, brands push a lot on original images, with colours and shapes designed to attract the user's immediate attention. And in particular they tend to merge text and image into one, then accompany the graphic elements with the textual effect, for a result that leaves the recipients of the message open-mouthed.
The possibilities are various: you can choose to highlight just one product (perhaps the top and best known one), combined with an intriguing claim enriched by terms that make the exclusivity of the offer perceived as "sensational", "screaming", astounding". Or it may be the percentage of discount that comes to the fore, with graphics that reproduce the style of the brand.
Or even, you can think of some moving writing. We really liked the case of the Boohoo clothing brand, which last year proposed a very interactive gif, with intermittent words and a very well studied choice of colours. The fuxia on a black background generates a contrast that keeps the eye glued to the screen, and the resulting optical effect is truly remarkable.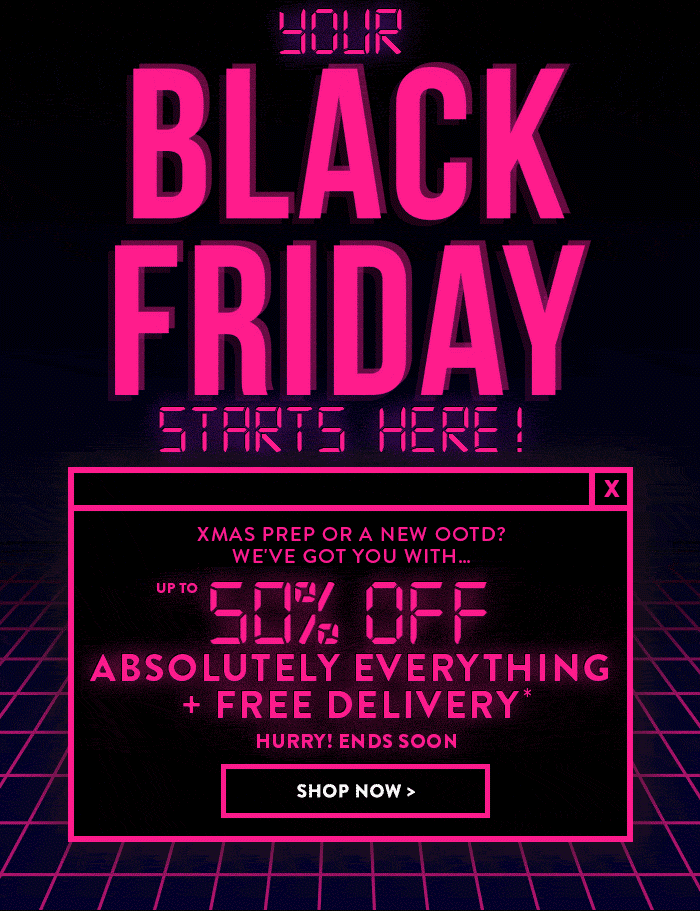 Play in advance
Don't wait too long. Your time to communicate with customers is now, also to challenge the competition, which this year seems to be more fierce than usual. A clear example of this is the case of Amazon, which this year has started sales on 26 October and it is gonna finish them on 19 November, so a Black Friday well ahead of schedule.

A strategic move that has allowed the company to differentiate itself from many other online realities and attract users to the site even before many other brands communicated their discounts and especially before users found themselves bombarded with emails, banners and social adv, being unable to distinguish one from the other. This means playing ahead: getting into the consumer's mind and being chosen first, when the competition has not yet come forward and therefore does not pose a threat.
Surprise and anticipation
Surprise and anticipation are two levers that always work in marketing.
The consumer wants to be amazed, intrigued and, why not, amused. It is no coincidence that advertising is also a form of escape from reality. The more the recipient perceives the message as surprising, the more he/she will pay attention to it. And if he pays attention to it, he will also be more inclined to perform the action we want: the purchase, of course.
An excellent example of a message with surprise is that of Forever 21, a well-known clothing brand that last year devised the scratch card trick through an attractive design card, which invites the user to go to the site and find out what percentage of discount it is still available.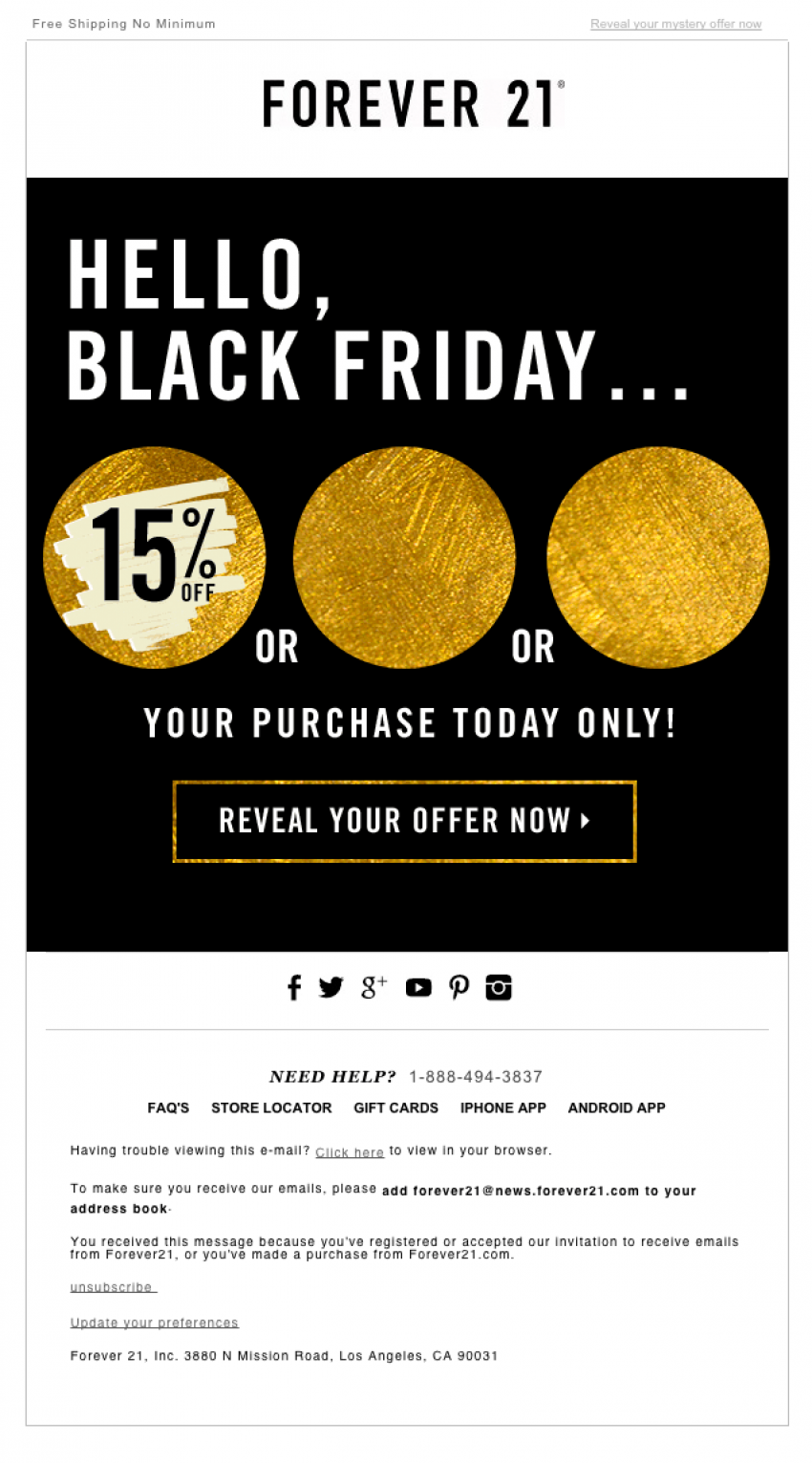 Then there is the "waiting strategy", which motivates the buyer even more, because it generates such a strong interest in the event that the user can't wait for it to happen and, once the X day/days come, he/she will not miss it. A company could therefore think of activating a countdown a month before the event, so that the user gets ready for the big moment.
This was done in 2016 by the Italian luxury brand Luisavia Roma - for example - that, with a gif in which the clock ticked and the seconds passed, focused attention on the time factor. The main idea was letting the consumer understand that every minute, every second that passed would take him away from the opportunity to make a purchase with a special discount.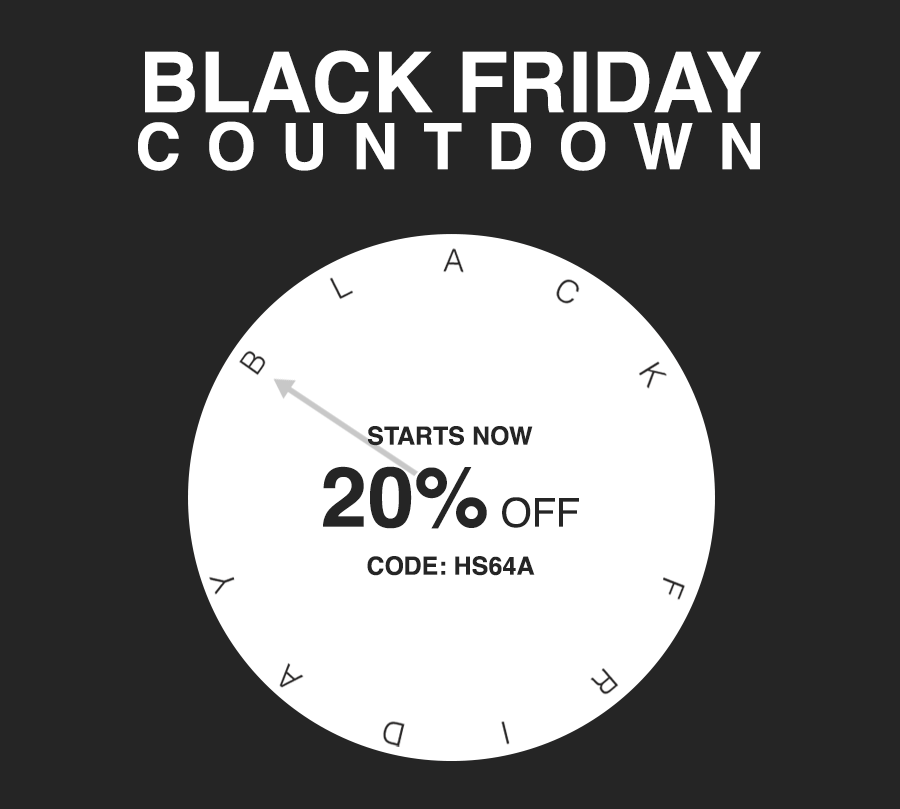 Gift
Speaking of surprising the user, what surprise can be more pleasing to a consumer than a gift? We all like to receive gifts, regardless of the occasion. You could therefore choose not to propose exaggerated promotions but to promote a "moderate" discount and associate it with a product/gadget/service as a gift. The mere fact that something is given as a gift will make the user perceive your proposal as really advantageous and above all will make him feel pampered.
Sometimes a simple bonus or the extension of an online service of a few days is enough to break the buyer's heart and, consequently, to improve the brand reputation.
Connect social media pages
And then there are always them, the social media pages, which in these cases have the invaluable advantage of acting as amplifiers of the event and allowing it to be viewed by a large number of online users, thanks above all to sharing, comments, 'likes'.
Precisely for this reason it would be absurd not to exploit this channel! But how can you connect email to Facebook, Instagram, Twitter and all your social pages? On Mail Marketing it's very simple: just associate your newsletter to your social accounts by going to Configurations > Enabled senders and social networks. When creating your newsletter, all you have to do is insert the "Social" tab (it is generally preferable to place it in the lower section), so that the reader - by clicking on the icons - can also access and interact with your profiles from the email.
In general, it is important that your marketing strategy - and this applies to Black Friday as it does to any other initiative - involves the use of several channels at the same time: so don't just focus on the newsletter or social media or just SMS/Whatsapp, but think about integrating all these channels together.
Reminder
We have seen how black friday has a variable duration: some companies dedicate only one or two days to special promotions, others a whole week, others even several weeks.
Whatever your company's decision is, a single promotional communication is not enough, considering that users receive dozens of newsletters a day and - if exposed only once to your message - they will most likely soon to forget it. That's why it's very important to schedule and send different messages, with pre-established and well thought out timing. So that, if the first one is sent two/three weeks before Black Friday, a second one will have to be scheduled for a week before it starts and a third one close to those day(s), for example. Use the newsletter to keep consumers' attention on the big discounts you are offering.
For example in 2016 Apple reminded consumers that the date of Black Friday was approaching by reproducing the calendar screen inside a clock, accompanied by the claim - in italian - "Dai che è quasi venerdì", which means "Come on, it's almost friday".
Attractive graphics, well-defined colours, reproduction of one of the brand's products (the clock), text that underlines the approach of the event: it's all set.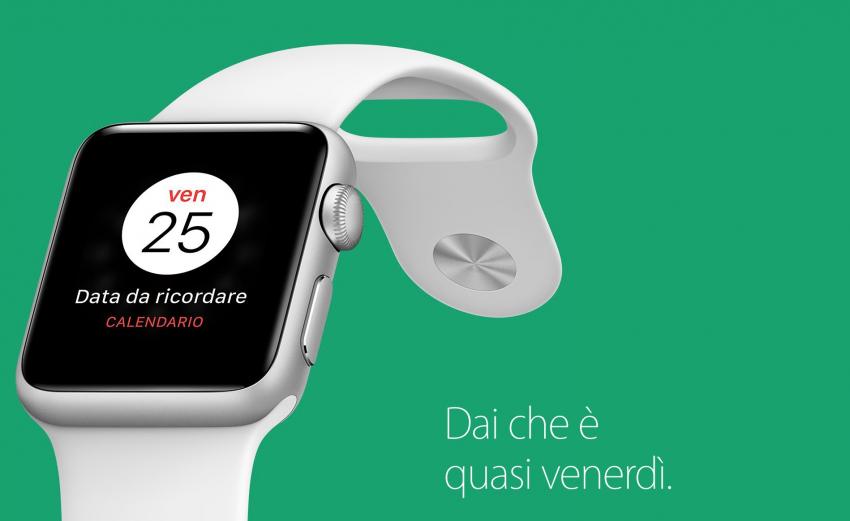 What about last-minute consumers?
Yes, it's true, we've told you how important scheduling is on occasions like this and how some companies have started their campaigns incredibly early to challenge the competition. But there's a good slice of consumers that can't be put aside: they're last minute shoppers.
No matter how committed you are to sending out newsletters on time and planning messages to act as "reminders", there will always be consumers who - even if interested - will forget about the offer and let it go. So why not set up one last newsletter to catch up with latecomers too? In the days following Black Friday you could send a new communication, maybe slightly changing the promotional offer: for example, instead of discounts you could propose free shipping or a free gadget, or a different kind of discount.
To sum up, the purpose of our article is this one: any marketing action in the pre-Christmas period, if well thought out, can lead to surprising results. And this is not a matter of supposition, but the sales statistics of the past years, such as those we talked about in the first part of the article, prove it. That's why it's fundamental that you dedicate these last two months of the year to setting up promotional campaigns (both for Black Friday and Christmas), sparing no effort in terms of creativity and strategic action. You'll see that at the end of the year you'll be celebrating the fruits of your labour!