From today on, the verification and creation of the Newsletter with Mail Marketing becomes more agile and immediate.


A few days ago two new features have been released in the Drug and Drop Editor, the most used tool for the creation of newsletters.
Both new features aim to make the creation, modification and graphic optimization of the email faster and easier.
View a preview of the Newsletter
The Drug and Drop Editor (Easy Editor), the most widely used newsletter creation tool today, includes the ability to instantly preview the email.
The new feature saves you time: you will be able to check and optimize the content and graphics of the newsletter in real time.
If previously it was possible to see the preview of the newsletter only during the newsletter summary, now you can directly verify the visual impact and optimize the result by simply clicking the Preview button.
Preview on Desktop
You will be able to preview the newsletter with both Desktop and Mobile screen simulation.
The Desktop view allows you to get immediate feedback on how recipients will view our email on your PC and Notebook.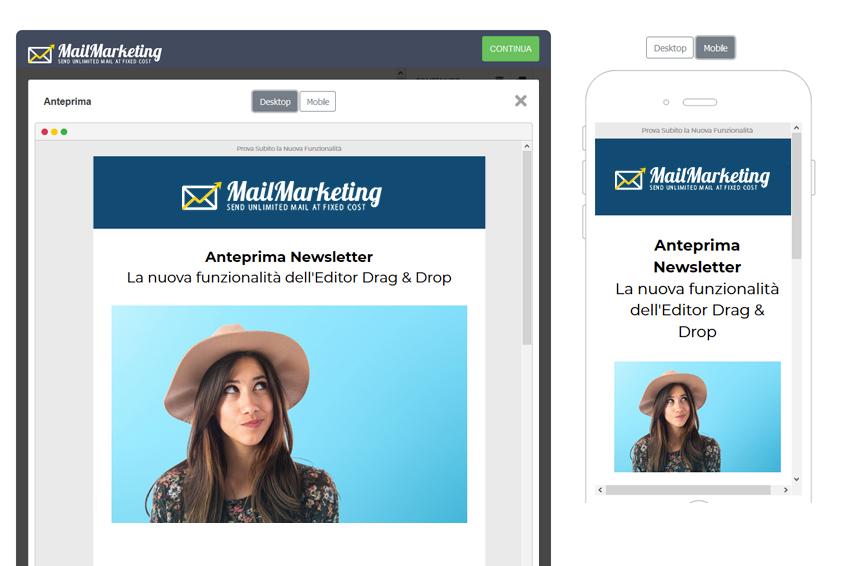 Preview on Mobile
Mobile viewing is extremely important because more and more users are checking and reading email using smartphones and iPhones.
Although the Drug & Drop editor allows you to natively create responsive email only, it is useful to check how recipients will view the email. In fact, it is important not only that emails have a layout that adapts to the screen of the device, but it is useful to understand how the contents, fonts, images are displayed.
Cancel and Repeat in the editor
The speed of the newsletter creation depends on the degree of flexibility allowed by the tool used. The second novelty of the drug and drop editor is the functionality: cancel and repeat.
The functionality is available at the bottom left.
When you create your emails, you now have the ability to undo or restore changes to the email. The new functionality allows you to intervene on any type of textual and graphical changes.